The blockbuster film, 'In The Creek' by Tarila Thompson is already making waves and breaking records despite not fully released yet.
The movie recently launched a new video website to further showcase the essence of the movie flick, its characters, crew and set pieces. The video website displays some of the starring actors enacting their various roles in the movie. It also gives a detailed description of each particular scene.
'In The Creek' tells the story of an average Niger Deltan community. With their land and waters, devastated by unregulated oil exploration in the oil-rich Niger-Delta region of Nigeria, pocket-sized agitation by the local youths is met with a robust assault by the military authorities. As things threaten to escalate, the community seeks the help of a local school teacher, Diongoli. A man whose philosophy brings a whole new dimension to the struggle.
It is simply a film that depicts the struggle of what really happens in the creeks of the Niger Delta region. The film which also shows well directed battle scenes, is dramatised with actual battlefield equipment in communities in the Niger-Delta, Johannesburg, and London. It boasts of the best of acts and production crew ever used in Africa, America, and Europe.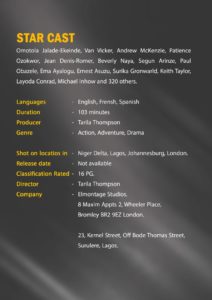 The new video website can be viewed here: http://www.in-the-creek.co.uk/
Watch the trailer:
AFRICA DAILY NEWS, NEW YORK