It has come to light in recent times how many activist groups and Non-Governmental Organisations who masquerade as Aid, Socio-cultural or Political groups are in actual fact registered Business organisations and Conglomerates being run by a Captain or figurehead who handles all transactions and logistics in the company. An example of one of these groups is the Indigenous People of Biafra (IPOB).
Africa Daily News, New York has got hold of some business certificates and financial licenses belonging to the Indigenous People of Biafra (IPOB). These documents show that IPOB is a registered business organisation that has express rights to transact business and legally act as a sole business company operating under various merchant organisation laws of transaction and ability to contract and employ human labour.
As can be seen in the posted documents, The Indigenous People of Biafra is a business organisation that was registered with the company name: 'INDIGENOUS PEOPLE OF BIAFRA (IPOB) WORLDWIDE CIC' on the 18th of October, 2018 with the company number: 10434287. The business documents also show that the organisation has four sole benefactors who include: KANU, Nwannekaenyi Nnamdi Okwu as the Media Consultant, and OKAFOR-MEFOR, Alphonsus Uche as the Director and Company Secetary with the business address given as 30, Sandlings Close, Pilkington Road, London, England SE15 3SY.
It was also discovered that under the Registrar for Companies for England and Wales, it was registered as a PRIVATE LIMITED COMPANY on the 22nd of July, 2014 with the company number: 9141882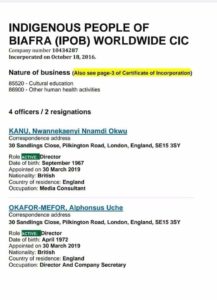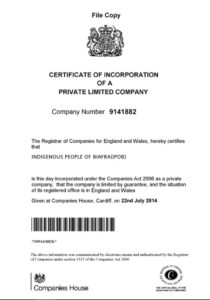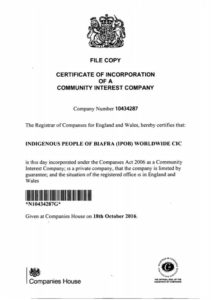 These findings have revealed that the Indigenous People of Biafra (IPOB) was registered as a business institution by its director Mazi Nnamdi Kanu which is why it is seen as a business venture by International Observers.
Read Also: October Ist: Igbo Youths Must Avoid Being Kanu's Scapegoats
Nnamdi Kanu has also been accused of using the organisation for personal vendettas and as a source of income generation for personal purposes. This was detailed in a memo submitted after a private investigation that detailed how Mazi Nnamdi Kanu with the help of the Indigenous People of Biafra (IPOB) organisation collects $85,000 USD from various fraudulent campaigns which he has masqueraded as well-meaning ventures. Some of these campaigns include petitions to members of Congress to the White House, the United States Commission on International Religious Freedom, and the American Charity, where he produced articles in the names of the alleged Christian NGOs' leaders.
There is also a UK and European angle of the Campaign, which is more opaque than its US sister campaign. Mazi Nnamdi Kanu has also founded an NGO/Charity organisation and a linked web-based campaign named 'Stop the Silent Slaughter' which is well designed to cleverly depict that the IPOB Organisation is fighting for Nigerian Christians while transaction records have shown that the monies amassed from these numerous organisations have all been transferred into personal accounts with IPOB making no meaningful headway towards the emancipation of Christians in Nigeria.
It is clear from all of the above that the IPOB and Nnamdi Kanu's extraordinarily and dubiously well-funded organisations in the United States and UK/Europe are misusing the issue of the welfare of Christians and the Biafran secession movement to enrich their personal accounts at the expense of other individuals who believe in the movements and have fallen for their pretentious charade.
Unlike the popular Anti-Apartheid organisation the African National Congress (ANC) which was made up made up of real freedom fighters in South Africa, the IPOB has no legitimate grievance. Consequently, it cannot genuinely rouse the World's conscience against the Nigerian government. Therefore, it found psychological refuge in falsehood and cheap propaganda. Its trumped-up allegations against the Nigerian government, like the enslavement of the Igbo and ongoing extermination of the Igbo in Nigeria which is resounding nonsense and which is why they ring hollow in international circles. The global community realises that, like most Third World countries, Nigeria is muddling its way through the 21st Century; and by Third World standards and within the limits of human frailties; Nigeria works for every Nigerian. There are tribalism and ethnic injustices in Nigeria, and no particular ethnic group is totally innocent of these vices.
Ostensibly, IPOB's goal is the creation of an independent Biafra through a referendum. It is the prerogative of the Nigerian Government to hold such a referendum. Similar referendums were held by the governments of Canada and Britain for separatist regions of Quebec and Scotland respectively. The Nigerian constitution has no provision for such a referendum. Therefore, the first step towards a referendum on Biafran independence is making a constitutional provision for a referendum. Ordinarily, IPOB should have focused on making the Federal Government amenable to holding a referendum on Biafran independence, and nudging the National Assembly towards a constitutional amendment that will allow for a referendum. Paradoxically, IPOB is working against these two objectives. It incites violence, breaks the laws, and antagonises the Nigerian Government. As such, IPOB has been proscribed as a terrorist organisation by the Nigerian Government. How then can the referendum hold?
Nnamdi Kanu and his senior lieutenants know that with their clueless strategy there cannot restore Biafra. However, Biafran activism makes them relevant and very rich. So, the object of Kanu's continued agitation for Biafra is not to achieve Biafran independence but to retain his mesmeric sway on his followers, which, in turn, builds his financial empire. Not surprisingly, his speeches are not strategic. They are tendentious rubbish which consists of gossips and trivialities that resonate with his credulous and deluded followers. His speeches are a truculent blend of falsehood, incitements, and insults. They nauseate discerning minds but enthrall his ignorant and confused followers. Although his propagandists attempt to cast him as hobnobbing with the powers that be on his 'diplomatic trips', he cannot meet with any worthy member of any government or international organisation. Nnamdi Kanu is a complete fraud who has sold his soul and that of his brothers due to greed and personal benefits.
AFRICA DAILY NEWS, NEW YORK