The notorious wife of the Anambra State Governor and first lady, Mrs. Ebelechukwu Obiano has recently been in the media for her favorite pastime, her love for frivolous spending, and impulsive shopping. If it were her personal funds she was blowing away in gigantic proportions, eyebrows would not have been raised, but reports have recently filtered in that her monthly remunerations sum up to an estimate of 250 million naira (six hundred and fifty thousand United States dollars) every month, give or take a few millions.
This happens in a country where the state governors are entitled to a base monthly salary of twelve million naira (Thirty thousand United States dollars).
She  has been known to have an insatiable taste for luxury and this taste comes at the detriment of the Anambra state Internally Generated Revenue (IGR).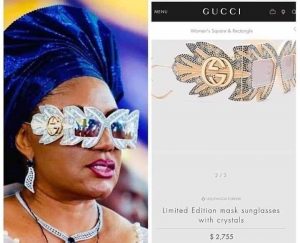 Mrs. Ebelechukwu Obiano has been known to be an end-point to major decisions in Anambra state. Her self assumed pro-veto powers allow her to oversee and vet out a lot of major contracts in Anambra state, take major decisions on matters affecting Anambra State and her resources and hire and fire state commissioners at her own whims. Since Mrs. Obiano manipulated her way into the heart of the Governor, she has ruthlessly and mercilessly forced decisions against the good intentions of her husband. It was said that this was the major reason Willie Obiano couldn't ascend the position of the Managing Director of Fidelity Bank. It has also been said that this brash, uncultured nature of hers was what drove Governor Obiano to his frequent bouts of drunkenness and his notorious womanising nature.
Read Also: Airport: FFK Allegedly Collected ₦40M To Praise Obiano
It's common knowledge that while Willie Obiano presides over the official Executive Council Meetings of the State, his wife upturns Executive decisions that do not favour her especially if it will affect the revenues that accrue to her through mining Anambra IGR or exclusive contracts from different parastatals using many strange names for her business interests. She has even caused letters of appointments made by the Governor to be either withheld or sub-planted with another one. The truth is that anyone who can set aside decisions taken in the Anambra State Executive Council meeting must be more powerful that the whole Exco members put together. Only one person has successfully done that several times and that person is Onyiridiya, Ebelechukwu Obiano, Madam Governor of Anambra State. She is more powerful than her husband who is the elected Governor of the State. From these manipulations, she has sole control over major funds moving through the Anambra State Government.
Mrs. Ebelechukwu Obiano has shown tremendous hunger in fixing her disciples in strategic positions ranging from Commissioner slots to positions of MDs and Special Advisers. She has equally shielded these non-performing criminals who have stolen the Anambra state commonwealth with impunity. What do we call a woman who appointed eighty percent of all appointments in the second term of her husband? She is the real governor of Anambra. Not even her husband, the elected Governor of the state can question her authority.
Anyone who doesn't conform to her 'laws' usually faces her ruthlessness. She is known for being very physical when provoked, one popular instance being her scrimmage with the wife of the Deputy Governor of Anambra state, Mrs. Oby Okeke where the latter was said to have taken home a couple of slaps.
Her funds are her most important priority in life and she always goes for it not caring who gets crushed in the process. She has on many occasions openly assaulted her hen-pecked husband the elected Governor of Anambra State and many others severally in public functions in the state. Severally, she has even gone to the extent of tearing her husband's clothes just to make sure he does not show up in events she disapproves of. Many similar assaults have taken place in public functions where she suffers relapse on her mental disorders that always turn her to a complete insane animal where no one is spared, not even the governor of the State.
Mrs. Onyiridiya Ebelechukwu Obiano considers herself the ruler and substantive Governor of Anambra State. This fact is known to all in Anambra state's Government circle and the reason behind the many impunities so brazenly committed by the likes of Wiping Wiper, David Nzekwu, Okey Anyayo, Obumnene Akunyili, Obi Nwankwo and James Okoye who are her well-known stooges.
Mrs. Obiano's appetite for money is unquenchable to the extent that she does not even understand what is meant by conflict of interest by those in government. She's everywhere. She's scheming using known proxies in all ministries. She uses CAFE her pet program as the reason for her excessive acquisitions. She manipulates the State's IGR through the Wiping Wiper using Dr. Nzekwu and the disgraced and demoted Okey Anyayo. He also uses Mr. Luke Aniakor, Emeka Ozumba, and many others as her proxies in moping all the funds from Anambra State. She forced the installation of her brother as the Anambra Market Chairman and he collects over ₦20m monthly in IGR from the markets in Anambra State but remits a paltry ₦300k to the state.
Below are some of the companies she uses to execute the facilities management and other contracts in Anambra State against the approval of the Anambra State Executive Council.
Golden Fingers
Siva Engineering
Moses must Win
AggapeHoldings
Health Ambassadors and Associates
Imoyel Construction.
EOM Nig Ltd.
Heaven At Last Services
Shuhel Nig
Rejoice Nig. Ltd,
The ten companies mentioned above are owned 100% by madam governor of Anambra State. Those are some of the companies that Mr. Luke Obiakor uses to terrorise Permanent Secretaries in all the Ministries in Anambra State. The slow pace of many contracts and road repairs in Anambra state like the Enugu-Agidi- Nawgwu -Ukwulu road which is not yet done 50% is because the job is under Mrs. Obiano even when the contract has been fully paid. The Amawbia-Nise-Nri-Agulu road rehabilitation is not done 30% because Madam Governor is the one handling the repairs and the Commissioner for works dare not query her almost uncompromising attitude to the pace expected of construction companies in Anambra state in the execution of these road contracts.
Governor Willie Obiano is a weak man when it comes to his wife, his submissiveness to Onyiridiya is legendary. And his spendthrift nature, chronic drunken state often don't seem to help matters for him. Some painful truths have to be said and the most glaring is that Anambra state has been commandeered and turned into a woman's plaything by the first lady.
.
AFRICA DAILY NEWS, NEW YORK