Lesbian, gay, bisexual, and transgender (LGBT) persons in Nigeria face legal and social challenges not experienced by non-LGBT residents. Nigeria does not allow or recognise LGBT rights. There is no legal protection against discrimination in Nigeria. Religion, both Christianity and Islam, play a powerful role in shaping people's views on homosexuality in Nigeria.
Both male and female same-sex sexual activity is illegal in Nigeria. The maximum punishment in the twelve northern states that have adopted Shari'a law is death by stoning. That law applies to all Muslims and to those who have voluntarily consented to application of the Shari'a courts. In southern Nigeria and under the secular criminal laws of northern Nigeria, the maximum punishment for same-sex sexual activity is 14 years' imprisonment. The Same-Sex Marriage Prohibition Act criminalises all forms of same-sex unions and same-sex marriage throughout the country.
Read Also: COVID-19 Heightens Anxiety Among LGBTQ Nigerians With HIV
But this doesn't mean that it engages or empowers citizens the rights to take laws into their own hands, thereby slandering or meting out justice to homosexuals in the form of Mob actions or public shaming. There are also stringent laws against mob unrest and jungle justice actions in Nigeria, but most of the time, these laws are put aside when confronting acts of same-sex relationships.
Take, for example, a social media user Innoson Living Testimony who posted a video of a Lesbian girl being publicly shamed. The video saw a group of individuals pulling the said girl by her hair and tossing her all around the town while hurling demeaning words at her. This is a pure case of Mob action against LGBT persons which is completely illegal in the Nigerian constitution and yet Innoson Living Testimony supported the acts and even bid them to increase the onslaught against the ill-fated lady. This is just one of the numerous cases of the terrible things LGBT persons have to undergo in a normal Nigerian society.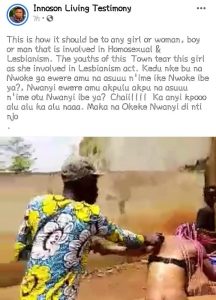 It is very imperative that the Police gets to look into this case of Human rights abuse and bring the culprits to book starting with Mr. Innoson Living Testimony.
This creates a very bad image for the Judicial and Legislative sector of Nigeria in international light and if not curtailed could lead to an international uprising and harsh petitions.
AFRICA DAILY NEWS, NEW YORK