Veteran filmmaker Omoba James Ademuyiwa Oyebanji has postponed the date for his proposed online filmmaking coaching classes.
He indicated that the reason for the postponement was due to numerous calls from interested individuals willing to partake in the film making, movie production, directing, and video editing classes.
The workshop has been moved to the 17th of August, 2020, and would still be held on the stipulated Google classroom page.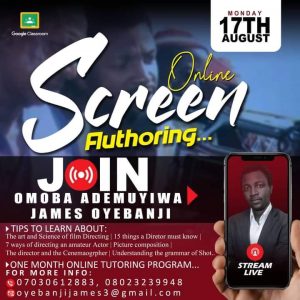 Read Also: A-List Nollywood Filmmaker, Oyebanji Begins Online Training

"After so much calls and messages from individuals who signified interest in being part of this outstanding experience, I have decided to move the commencement of the ONLINE TRAINING to the 17th of August,2020."

"Make Hay while the sun shines"
For more information, interested participants are to call the following numbers: +2347030612883, +2348023239948.
He can also be reached by email on: [email protected]
AFRICA DAILY NEWS, NEW YORK