Veteran filmmaker, director, and producer Omoba James Ademuyiwa Oyebanji has announced the date for his proposed online filmmaking coaching classes.
The program would encompass all categories of film making, movie production, directing, and video editing classes which would all run for one month.
Read Also: Veteran Nollywood Director Oyebanji, Organises Workshop
The Live classes have been scheduled to hold on the 3rd of August on the Google classroom page.
For more information, interested participants are to call the following numbers: +2347030612883, +2348023239948.
He can also be reached by email on: [email protected]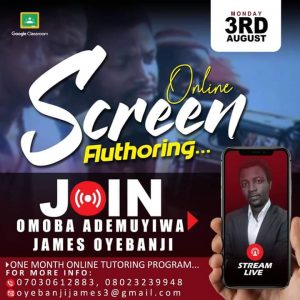 AFRICA DAILY NEWS, NEW YORK