Mr. Melvin Ejiogu, author of the leading international bestseller The Greatest Reality Show has announced his plans of appreciating his fans and well-wishers.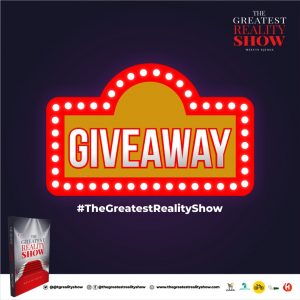 In his announcement video, he thanked his fans and appreciated those who reached out to him about how his book has made great impacts on their lives.
"First of all, I want to thank Nigeria for the warm reception towards the book. I have received a lot of testimonies and messages from different people across Nigeria regarding the book."

"And I must say, I am encouraged by your kind words."
In his own little way of showing gratitude towards the warm reception of his book, Mr. Ejiogu has planned an enormous giveaway for those who support him, those who purchased the book, and to those who recommended the book to their churches, places of work and to their loved ones.
Read Also: The Greatest Reality Show: Daddy Freeze Hosts Melvin Ejiogu
This event would be taking place on his birthday on the 10th of July and it is scheduled to run through for one full month.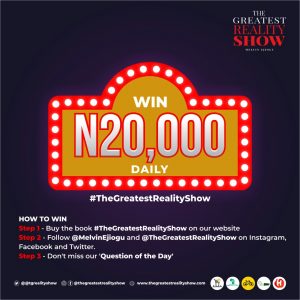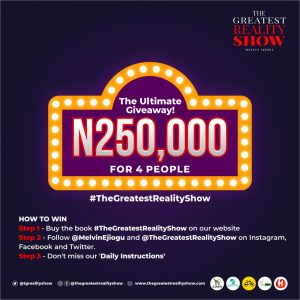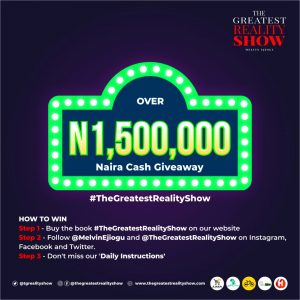 He would be launching amazing cash prizes as giveaway gifts across all major social media platforms: Twitter, Facebook and Instagram. And then to top it all off, four lucky individuals are billed to walk away with the ultimate price of One million naira.
"Remember this is my own way of saying Thank you to those who support and purchase my book." He quoted

"You can still purchase the book and join in the giveaway. Just keep your receipt and your order number from whatever platform you purchased the book"
Also to qualify for the giveaway, all interested individuals are to follow him on his social media handles to be able to get current updates regarding the giveaway event.
He rounded up his announcement by reminding us that we are all actors in the greatest reality show.
"I pray that when our time on earth is done, when we step out of our uniforms and our costumes and we step into eternity, that we will receive the ultimate victory price prepared for us"
AFRICA DAILY NEWS, NEW YORK