The newly appointed Special Adviser to the Governor of Imo state on Entertainment Mr. Bobby Michaels has opened up on his plans for the entertainment industry in Imo state.
The veteran actor and entertainer was seen at a meeting which was held during the weekend at the Bongo Arena, Owerri. In attendance were entertainment practitioners and heads of different guilds whom he addressed on the importance of loyalty and steadfastness.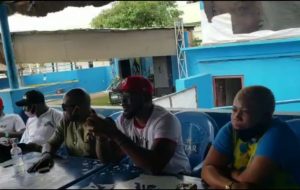 He talked about how the Imo State Governor, Senator Hope Uzodinma has paved a way for an open door policy form of Government in the state, something which no other past administration has been able to achieve. He also speaks about how important it is to identify with the new Government and drop all old alliances with past administrations that might bring friction and unhealthy rivalries.
He urged them to show extreme support and loyalty so that they can successfully work for the progress and development of Imo State collectively.
"If the Governor has put us in charge of entertainment in the state, and people are coming around saying I am loyal to Emeka, I am loyal to Okorocha, it will not work here."
The SA also promised that there would be an open policy in his administration.
"I don't know many of you here one on one, but I believe that everyone should be treated fairly and equally. This is because I don't believe in knowing people one on one especially in government"

"What I believe in is give to Ceasar what belongs to Ceasar, so no one should treat any other person like crap or disrespect the next person"
He also said that with his experience in entertainment in Nigeria, United Kingdom and United States of America, he will not only change Imo State entertainment, but give it an international face, that will be powered by some exciting programme he has in stock for the industry.
While commending the gathering, Mr. Bobby talked about how things will be done differently in this administration. He assures them of his availability and how he is always approachable by anyone. He reiterates that this current government would make more sense than the previous ones if only the people stood together and worked hand in hand.
As he rounded up his statement, he commended his deputies on their hard work and thanked everyone for all their efforts in seeing that the entertainment ministry moves forward.  He promised to continue using his ministry to work hard and represent Imolites all over Nigeria.
AFRICA DAILY NEWS, NEW YORK