A successful Inuagral Cycling-Festival was held on the 20th of June, organised by an Estate Management Guru, the CEO of M.I.C Turnkey Property. It was on the back of this event that a strategic meeting between the Organiser and the Ministry of Foreign/ International Affairs, was initiated.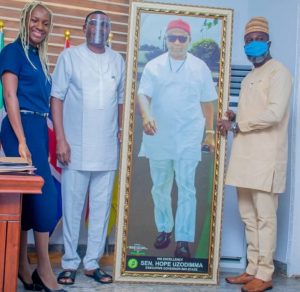 Dr Fabian Ihekweme, Honourable Commissioner for Foreign and International Affairs today received a delegation from the Imo Diaspora Office and Mr Igbo; where the major discussion on the table was Imo State and how it can tap into the 'Health and Wellbeing' Industry, an industry modestly estimated at 4.2 Trillion Dollars globally.
Read Also: SA Diaspora: $4.2 Trillion Industry, Imo Has Awaken To It
The Honorable Commissioner, Dr. Ihekwueme at the meeting was resolute about the need for foreign investment in this sector, here in Imo State. The Commissioner in his own words, stated that "judging by the photographs of the Cycling event on Saturday, I'm convinced that there's a huge appetite for this sort of activities, this will open up job opportunities and will create additional income stream for our State. The Governor will welcome this discussion and hopefully we can come up with a proposal to drive this forward". Dr. Ihekueme thanked SA DIASPORA Hon. Cllr Osakwe-Hibbert for attending the event over the weekend on the Ministry's behalf.
The meeting ended in high optimism for the future and with a big cheer as Mr. Michael Igbo officially presented a 'Human Sized' framed photograph of the Executive Governor of Imo State Sen. Hope Uzodinma.
AFRICA DAILY NEWS, NEW YORK