Today is the D-Day for the burial of IPOB leader, Mazi Nnamdi Kanu's parents, Eze Israel Kanu and his wife Lolo. Mrs. Sally Kanu who passed away in quick succession last year.
Africa Daily News will be subsequently covering the burial as it progresses.
The burial ceremony will be held at Afarukwu Community in Abia State, the hometown of the Kanus.
Africa Daily News earlier reported the various controversies surrounding the burial ceremony, which includes threats from the Abia state commissioner of police to the deployment of heavily armed federal troops to the venue of the burial in order to scare of mourners and well-wishers.
It was also reported yesterday that a full busload of Jewish worshippers on their way to the burial was intercepted and detained by personnel of the Nigerian army for reasons best known to them. Mazi Nnamdi Kanu made this known yesterday on his verified Facebook page. He also made reports about the destruction of two CCTV cameras by security officers who were roaming about the deceased's' compound yesterday.
So far so good, apart from intermittent disruptions by security agents, all is in order as preparations for the burial are taking their due courses and no one on the premises has been harassed yet.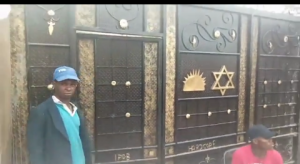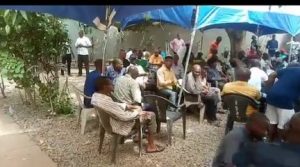 In addition to the thirty-eight Close Circuit Television (CCTV) cameras already installed, the organizers of the burial have made drones available for full coverage of the burial ceremony.
The wake keeping was performed yesterday and based on reports from family members who were present, there were no mishaps as all protocols were well observed.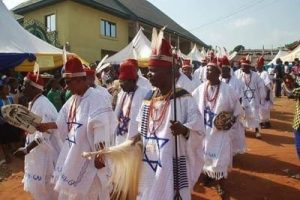 12:00 BODIES LEAVE MORTUARY
The remains of Eze Israel Kanu and his wife, Lolo Sally Kanu, parents of the leader of the Indigenous People of Biafra (IPOB), Nnamdi Kanu was this morning transported from the mortuary in style ahead of the final burial rites.
The burial rites for Nnamdi Kanu's parents which is slated for February 14, 2020, is underway and photos are beginning to emerge from the event.
Afaraukwu community, where the burial is scheduled to take place, is currently agog with preparations for the entombment of the IPOB leader's parents.
On Wednesday, Kanu in a statement said, "It is my great hope that the Indigenous People of Biafra can mourn in peace on Friday and can live in peace every single day forward."
See photos below:
3:00 PM BODIES ARRIVE CHURCH
The bodies of HRH, Israel Okwu Kanu and his wife, Ugoeze Meme Sally have just arrived at St Andrews Anglican Church Afaraukwu Ibeku where the main commendation service will be taking place.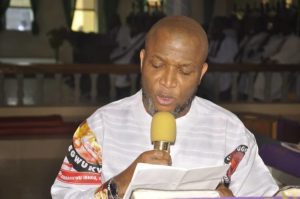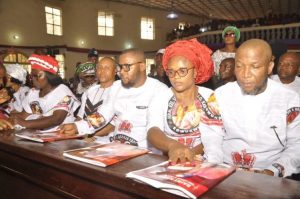 Also in attendance are Senator Enyinnaya Abaribe Deputy Senate Miniority leader and former governor of Anambra State, Peter Obi.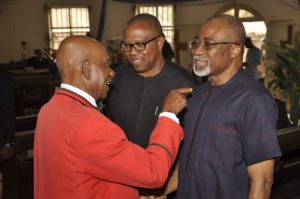 KEEP IN TOUCH AS WE BRING YOU MORE LIVE UPDATES FROM THE BURIAL CEREMONY
AFRICA DAILY NEWS, NEW YORK